E-bikes are becoming more popular with every passing day. Manufactured and built with modern technology and premium mechanical components, these bikes are taking over the electric vehicle industry. They are fast, fun, easy to ride and best of all good for the environment. Therefore, it doesn't come as a surprise why these bikes are generating a lot of attention.
Electric bikes have been around for quite some but didn't get enough recognition, not until the 19th century. Even as that, you could hardly see the electric bike on the roads of Canada. Over the decades, they kept on evolving until they encountered a significant turning point in 1995. At this point, the demand for neodymium magnets sporadically increased due to a major drop in price. This was the exact boost e-bikes needed.
These bikes kept on becoming better until they got to a point where they hit their primacy in 2018. Today, the global e-bike market is now worth over $21 billion. E-bikes are the new trend penetrating even the fashion and music industry. Today, these motor propelled bikes are at the core of urban civilization.
Great for commuting to work, hiking, shopping, the list is endless. E-bikes can take riders just about anywhere within the city of Toronto. They operate with lithium-ion batteries that can be easily recharged, lightweight, have stylish frames and come in different colours, shapes and. They are cost-effective and easy to maintain and provide riders with comfort and generally, an amazing experience of the city. 
Of course, this is not a benefit that should be enjoyed only by adults. Kids should also be able to experience the joys of motor-assisted pedalling. This article looks to explore all the details of e-bikes for kids including our top picks for kids in Toronto.
Related article: How To Choose An Electric Bike? A Complete Buying Guide
Can a kid ride an e-bike?
The answer is yes! A kid can ride an e-bike. E-bikes are very comfortable and safe. They have the best braking system when compared to traditional bicycles and even cars. The e-bike as we know it is powered by an electric motor. Once the break limit is exceeded, the motor immediately stops running.
They are engineered with great shock absorbers that smoothen out bumps making sure your kid is not only safe but also enjoys a smooth ride. No matter the terrain your kid rides on- sandy, grassy, rocky, they have nicely integrated components with excellent weight distribution to ensure that your kid is well balanced and safe.
Purchasing E-bikes for kids in Toronto requires some homework. These bikes come in different shapes, weights, and sizes. You have to know which best suits your kid. E-bikes are generally lightweight due to their aluminum-made frame and batteries.
However, these bikes are made for riders of different height and weight. So you have to put these into consideration.  Electric bikes are pretty fast. They can go as fast as 45km/h. So, the speed setting for young children is something you also want to consider. All of this will be properly discussed in the next section.
Related article: How to keep your E-bike safe in Canada
Best E-bikes for Kids
In contrast to the traditional bikes, pedalling is way easier with Electric bikes. The electric motor helps the rider propel the bike forward with little effort from the rider. The electric motor literally helps your kid to pedal the bike. Kids love these bikes because they are fun and exciting. Also, it gives them an opportunity to spend more time outdoors.
Children e-bikes are great gift ideas if you are looking to put that smile on their faces. However, finding the best available Electric bikes for kids can be challenging. We have put together a list of top e-bikes for kids in Toronto to give your child a safe, enjoyable experience. 
MM – B80 Motorbike 
This is one of the best selling electric bikes for kids on the market. This bike is the developed and improved version of the old classic minibike. It is packed with modern features to make it safer and easier to ride. 
The safety feature of this bike is a no-brainer. It has 3 basic safety components that set it apart from other e-bikes.- a chain guard, an exhaust heat shield and a kill shield. Some other features of this bike include:
From the box to the streets: There is absolutely no need to spend hours looking at the picture on the manual trying to put the parts of the bike together. It comes pre-assembled. All you have to do is to fix the handlebars and it's done! Ready to use. All these should take nothing more than 5 minutes.

Amazing specs – This e-bike is outfitted with an OHV 80cc engine. It has a CBT transmission so your child does not have to worry about shifting. This is a great bike for a child that is just learning how to ride. It is also equipped with a full starter so your child does not have to worry about kickstarting. 
Combining both the engine and the auto gear shifting capability gives this bike the ability to reach up to 23miles per hour. It has a nicely constructed steel frame reinforced with polypropylene fenders. 
It also has a large puffy seat which ensures that your child is well seated and comfortable while riding. The bike is suitable for kids within the ages of 10-13 years old. It is about 19 inches high and has a net weight of 91pounds.
MX650 Dirt Rocket 
Looking to give your child the best off-road experience, the dirty ticket electric bike is your best bet. It can reach speeds of up to 7mph and can carry riders weighing up to 220lbs. 
It has two large tires of different sizes. The front tyre is 16 inches while the read, 14 inches. This difference in tire size is optimized for maximum balance and safety. 
It is chain-driven, noiseless and can work for 40 minutes straight after a full charge. The body frame is made of steel. Best of all, it's suitable for kids from 7 to 11 years of age.
SX500 McGrath Dirt Rocket
This bike was designed in honour of Jeremy McGrath. He is one of the best riders in the history of Motocross. If you want your kid to learn like a pro, this is the best bike to get. It has the frame of a genuine dirt bike. It has more than one-speed motors so your child can have that super-charged experience. 
When charged fully, your kid can enjoy a 45-minute ride at full speed. The SX500 can support riders of all ages but it's mostly recommended for kids between the ages of 12 and above. For a smooth riding experience, this bike is recommended for riders that weigh less than 275 pounds. If your kid is heavier than that, the bike will travel slower. 
The bike has a beautiful steel frame and weighs about 98 pounds. It is the perfect bike for beginner riders to learn how to ride e-bikes. 
MX500 Dirt Rocket Electric Bike
This bike is a safe machine. With it, your child can reach speeds of up to 17 MPH and travel for 10 miles when charged once.
The handlebars are raised, it has two large tires made for dirt and optimum transfer of power.  It has a double suspension for a smooth and relaxing ride. It can hold a rider that weight up to 175lbs. Strictly recommended for children of ages 14 and above.
Pocket Mod Miniature Euro Electric Scooter
This Italian made e-bike will give your kid especially your daughter a sense of style and safety. It comes in different colours, so you can buy your kid's favourite colour. 
Trust this electric bike to turn heads on the street of Toronto any day. It comes with a 90-day warranty so if anything happens to it, you can either return it or sell it. It can go as fast as 15 miles per hour. When the battery is fully charged, it can function for 40 minutes of continuous operation.
It is recommended for children aged 12 and above. It has a sealed lead acid rechargeable battery for complete safety. The maximum weight for the rider of this scooter is 170 pounds.
Dune Buggy By Razor
This bike has a comfortable bucket seat and a beautifully engineered steel frame. It has a thumb-triggered accelerator and a rear hand brake which controls the variable speed, high-torque motor. The sealed lead-acid rechargeable battery can run for 40 minutes.
The dune buggy by Razor is suitable for kids aged 8 and above. Maximum weight of the rider should be 120 pounds while the bike itself weighs 65 pounds. It can go as fast as 9mph with its 8 inches tires. It is popularly known for its off-road capability.
MX350 Dirt Rocket Electric Bike
This is one of the best electric dirt rocket bikes on the market. It can carry a rider weighing up to 120. Its large knobby tires are expressly crafted for dirt roads and off-road travel. These tires are made that way to ensure that there is a maximum transfer of power. 
With only one full charge, a rider can travel ten miles at a speed of 12mph. Designed for ages 13 and above, the bike is powered by a battery so quiet, the neighbours will never complain. It has a twist grip throttle control and it is driven by chains.
MX400 Dirt Rocket Bike
This bike can be ridden by children from 5 to 12 years. It has an extended period of durability. It is a highly reliable option for your kid. 
It offers high performance, easy grip, and smooth acceleration techniques. It can go up to 12mph. Its power can be utilized for 30 minutes after a full charge. Due to its low height, this bike is recommended for children below the age of 6. We don't want your younger kids to lose out on that riding experience. 
The bike is chain driven and controlled by an electric motor making it extremely quiet. It's 12 inches knobby tires are created for dirt and it can easily carry riders that weigh 140lbs and below.
Electric Dirt Bike 36V500W Rocket Power Motocross Bike
This bike has a 500W/36V motor. It has two 12v batteries, making 24V in total. Once these batteries are charged, your kids can have more hours of fun outdoors.
This electric bike has a speed limit of 16mph and recommended for kids ages 13 and above. It has padded seats for maximum comfort and can hold a rider with maximum weight 150lbs. It is chain driven so there is minimum noise. There is no risk of your kids disturbing the neighbours.
Burromax Black TT250 Electric Motorcycle Dirt Bike
This bike is safe, simple and environment-friendly. The battery's capacity above decent for its price. It can last for up to 4 hours after charging. One of the features that make this bike stand out is the adjustable speed. You can regulate the speed limits to either 6mph or 10mph increasing the safety of your child.
Benefits of E-bikes for Kids
Kids love playing outdoors. Electric bikes give them the opportunity to have a fun exciting outdoor experience while still being safe and healthy. It also teaches your kids to be dependent, smart and responsible. Let's go over a few other benefits of e-bikes for your kids.
They are very easy to pedal
Electric bikes relieve your kids of the stress and effort of continuous pedaling. Your kid can have as much fun without exacting too much energy.
Lightweight
Most e-bikes have very light engineering components which reduce their total weight. This makes it easier for your kid to ride them and enjoy a smooth ride.
Easy parking
Your kids can ride these bikes to school, the mall, parks, grocery stores, and park then conveniently.
Safe and healthy
Electric bikes do not emit fumes so your kids are not inhaling carbonic materials. They are comfortable and easy to ride. They do not make noise so your kids are aware of the sounds around them. Also, they have decent speed ranges.
Smooth rides on any terrain
Whether grassy, sandy or rocky, Electric bikes have been designed for smooth rides on every terrain.
Different designs and frames
They come in different designs, sizes, and colours. Your kids can have them in their favourite colours and styles.
Related article: Health Benefits of Riding an E-bike
Conclusion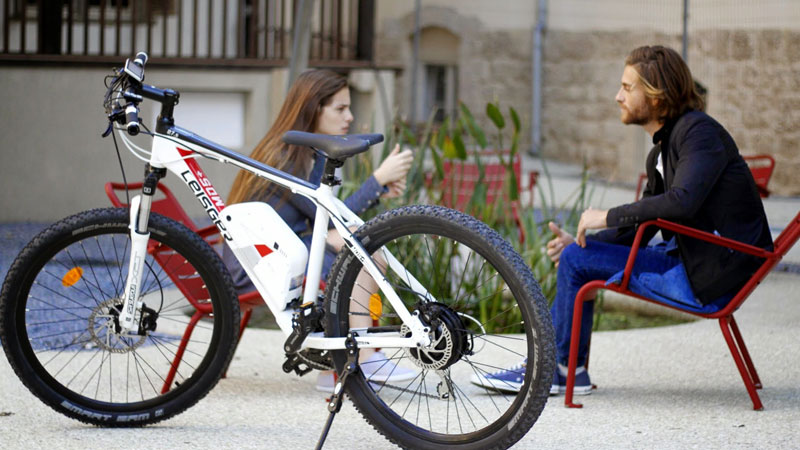 Kids are very adventurous. It is very important to take precautions before putting them on Electric bikes. Make sure they are wearing all their safety gear before sitting on the bike. Knee pads, helmets and elbow pads are a necessity.
It is important that you choose the best e-bike for your kid. Therefore, when purchasing an e-bike for your kid, ensure the weight capacity, speed, and height of the bike suits your kid. Alternatively, you can contact our experts. They will help you find something perfect for your kid.
https://epiccycles.ca/wp-content/uploads/2019/07/MG_2091.jpg
450
800
Danny
https://epiccycles.ca/wp-content/uploads/2018/02/epic-cycles-web-300x138.png
Danny
2019-07-31 15:40:09
2019-08-29 15:59:29
E-bikes for Kids in Toronto