Online Electric Bike Store Servicing Halifax
Enjoy the beauty of Halifax by getting around on an e bike or electric scooter from Epic Cycles. It is a fun, environmentally friendly way for you to appreciate the scenery or go about your daily life.
Whether you want to explore the coastlines or get around in your neighbourhood, Epic Cycles has an electric bike or scooter that is right for you and your lifestyle.
Epic Cycles – Grand Opening
A World Of Possibilities Through Electric Scooters And Bikes
Are you looking for a way to appreciate the natural beauty of Nova Scotia? Or you need a fast, easy way to get to and from work and run errands in Halifax? No matter where you are, you can combine the thrill of traditional bike riding with the convenience of e bike technology.
You can go faster and further than pedal power alone will take you, in a more affordable and ecofriendly way than a car or motorcycle can give you. Whether you choose an e bike or an electric scooter, you can open up exciting new possibilities when it comes to sightseeing and transportation.
Combining Performance With Safety
Epic Cycles is an e bike expert Halifax can trust for quality products and sound advice. Whether you're looking for speed, maneuverability, or solid performance on all terrains, you are sure to find something you love in our catalogue. All of our bikes charge up quickly and have impressive range. All of this comes with top-notch safety features, like top-of-the-line braking.
2
Tool Free Adjustable Handlebars
3
Tektro Hydraulic Disc Brakes
Turn Your Favourite Bike Into An Electric Bike
If you're looking for the excitement of an e bike but you're having a hard time giving up your faithful old bicycle, we have a solution for you. A DIY conversion kit will provide you with everything you need to turn your regular bicycle into an electric bike. There are several reasons you might want to do this:
– A conversion kit is far cheaper than an e bike.
– You can keep your custom paint job and cool accessories
– If you have limited space, you don't have to find room for another bike
Exploring Halifax On An Electric Scooter
Epic Cycles is not only about the e bikes. We also offer a wide range of electric scooters. Here are just a few reasons for you to consider this option:
1.
Electric Scooters Are Sidewalk-Friendly
Electric scooters are not designed to go as fast as e bikes. They can be used on sidewalks safely and
easily.
2.
They Are Easy To Maneuver
Electric scooters do not take up a lot of space. You will be able to zip around tight corners and get through crowds quickly, without putting anyone at risk of harm.
3.
They Are Easy To Use
Bikes are not for everyone. Some people cannot get the hang of peddling, and mounting and dismounting can be challenging for people with injuries or other limiting conditions. Getting on and off an e scooter is easy, even for people with some physical limitations.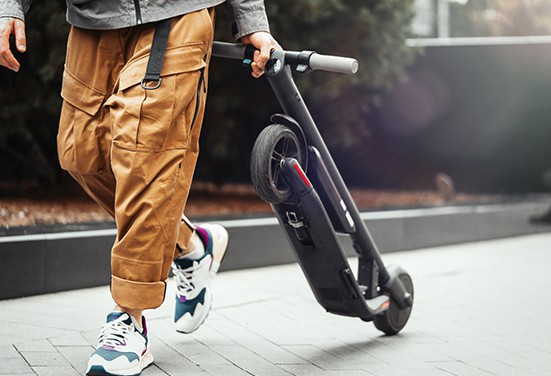 4.
They Can Be Stored In Small Spaces
Electric scooters weigh less than 40 lbs. and they are foldable, so they are easy to carry around. Their storage footprint is negligible: they do not get in anyone's way during charging.
Affordable E-Bikes For Halifax
At Epic Cycles, we believe that the world of e biking should be accessible to anyone who wants to try it. While we do have top-of-the-range e bikes for the serious enthusiasts, we also have affordable options for those who are looking for their first e bike and don't have a lot of money to spend. For us, a low price point does not mean low quality. Your e bike will combine quality craftsmanship with the latest technology, and it will be cost-effective to run.
Ordering From Epic Cycles is Effortless
If you are ready to start seeing Halifax in all its glory from an e bike saddle or electric scooter, check out our catalogue or complete our contact form. One of our friendly experts will be in touch to talk to you about your e bike or electric scooter needs.