Biking has become the top choice for exercise during the pandemic. Both traditional bikes and electric bikes offer you a way to get outside and work your muscles while maintaining social distancing. This increase in biking frequency can also have a positive impact on the environment, traffic congestion and personal health.
So, what are the best electric bikes for exercise during a pandemic? As the popularity of e-bikes have grown so have the options available. Prices have also started to come down as production increases, making this an optimal time to buy. In this blog, we will take a look at why bike riding could be a good fit for your life. More importantly, we will explore the best e-bikes for exercise during the pandemic.
Why Bicycling is Great Exercise During Social Distancing
In this section, we will show you why you should buy an electric bike. These innovative bicycles offer a number of benefits that can be enjoyed even with the COVID-19 pandemic.
Avoiding Public Transportation
Electric bikes allow you to travel further with less fatigue than a traditional bike. This makes them ideal for getting to places within your community while avoiding public transportation and rideshare services. While precautions are being taken in our transportation industries to keep riders and operators safe, it is not possible to completely eliminate the risk of virus transmission in a closed space like a car or bus.
However, an electric bike will allow you to travel upwards of 30km in an hour. Combine this speed with a pannier bag and you can easily knock off errands like buying groceries from your to-do list without risking public transportation.
Getting Fresh Air
The COVID-19 pandemic swept through the world just as many of us were preparing to get outside after the long winter. This has resulted in even more indoor time than usual – a fact that can have a serious effect on health. Bone aches, depression and trouble sleeping can all be attributed to a lack of sunlight and vitamin D. As little as 15 minutes of bike riding a day can get you all the vitamin D and sunlight you need to stave off this ill effect.s
Your Personal Gym on Wheels
Gyms and indoor recreation centers have been among the places that Canadians have missed the most during the pandemic. While gyms are beginning to reopen, the threat of COVID-19 has not completely passed. This means there may be limited availability of certain equipment and shower facilities.
For those with compromised immune systems, the risk may still be too great even with these extra precautions. Riding an electric bike is a great alternative that helps you work multiple parts of your body and cardiovascular system. Staying fit is top of the answers to why you should buy an e-bike.
Calorie Burning Without the Strain
E-bikes are designed to assist riders to make taking on obstacles like hills easier. Also, they require less force to operate on flat ground. However, this ease does not mean you are not burning calories.
An hour of electric bike riding will burn around 300 calories for most riders and even more for others. Also, new riders who are not used to bike riding and those with mobility concerns can easily enjoy this versatile form of exercise thanks to the pedal-assist function. This functionality and ease of usage is why you should buy an e-bike even with social distancing.
Best Ebikes for Your Pandemic Workout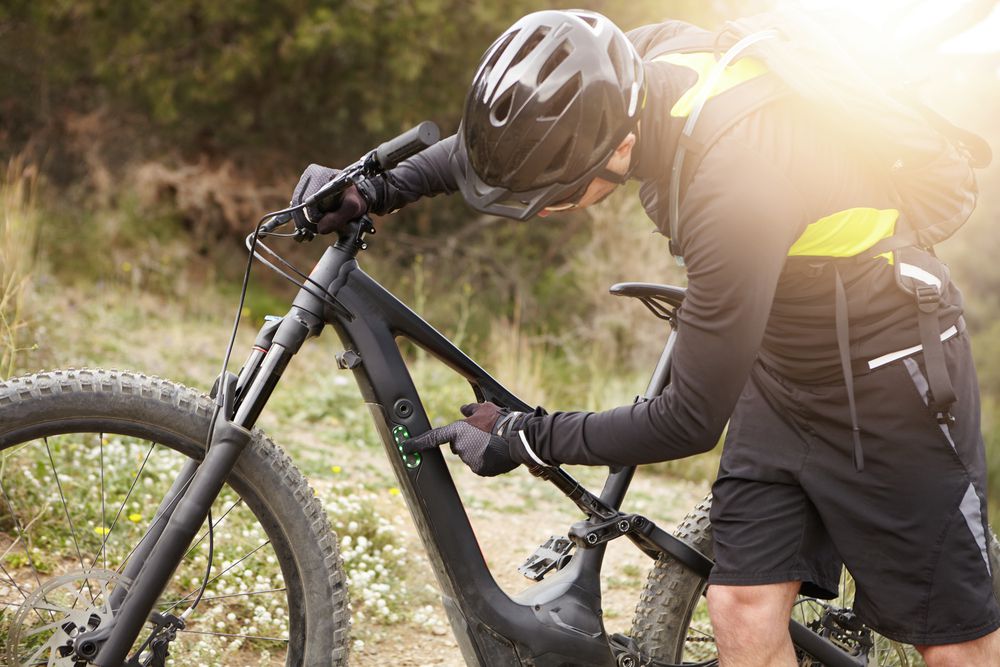 The following electric bikes are a great exercise and functionality option. Also, we have considered how much e-bikes cost to help you make the best choices.
Magnum Classic 11 – Low Step – Best Value and Great for New Riders
Voted "Best Value Folding Bike" by Electric Bike Reviews, the Magnum Classic 11 – Low Step has plenty of features for new and experienced riders to love. A
wide, cushioned seat, low-step and adjustable level of peddle assist make this bike great for riders who are new to bikes or starting a new exercise routine. Other features include:
More Bike for Your Buck
The Magnum Classic 11 earned its title as a best value by coming in at a lower price point than many other folding bikes without skimping on the design.
Gel-Cushioned Saddle Seat
If you have ever avoided biking because of fear of a tiny, uncomfortable seat, the Magnum is the best bike to change your mind. The wide saddle seat is cushioned with gel that provides comfort and stability for short and long rides.
6 Levels of Peddle Assist
Start your biking journey with a little extra help from the varied levels of peddle assistance. This feature helps new riders get comfortable while also providing options for when you get more experienced.
Top Speed
With a top speed of 32kmh, the Magnum makes a great commuter bike that can be ridden with ease in urban and suburban areas.
Easy to Read Display
The large display makes it easy to switch from one level of peddle assist to another without taking your eyes off the road.
Up to 45 Miles on a Single Charge
A powerful 500-watt battery allows you to get a full charge in 4.5 hours. Get anywhere from 20 to 45 miles on a single charge depending on driving speed and road conditions.
Magnum Payload – Best Cargo Option
Perhaps your answer to why you should buy an e-bike is to start a delivery side hustle? The Magnum Payload could be the affordable alternative that will carry you, your cargo and even another passenger. With a weight capacity of 350 lbs and a cargo deck on the front and back, the Payload is ideal for running errands or making deliveries.
Step-Thru Design
The step-thru design ensures you can get on and off the bike safely even when you are fully loaded with cargo. A double kickstand offers even more stability to ensure your cargo stays secure even when weight distribution is not even.
Room for All Your Bags
When transporting cargo, the Magnum Payload has removable back footrests to accommodate longer, oversized pannier bags. The front deck is securely fixed to the bike to provide an extra room that is also stable.
Easy Urban Navigation
As businesses reopen, the Payload provides a flexible way to get through crowded urban streets. Even stacked with cargo or a passenger, this bike is easy to maneuver and provides greater versatility than even the most compact 4-wheel vehicle.
Up to 88km on a Single Charge
The Payload's rugged battery provides anywhere from 40 to 88 km on a single charge. Depending on total cargo and rider weight, riding style and terrain, you may get anywhere within this range.
Saddle Seat
A cushioned saddle seat helps keep you comfortable even during multiple stops and deliveries.
Safe Braking

Hydraulic disc brakes by Tektro ensure that even when you have maximum cargo, you and your items can all come to a stop safely.
Magnum Ui6 – Best City Biking
Rated as the "Best Value in the City Category" by Electric Bike Reviews, the Magnum Ui6 is a quality, affordable bike for city dwellers. Furthermore, the user-friendly design and reliable performance of the Ui6 make it a great option.
User-Friendly Display
The backlit LCD display lets you see at a glance your assist level, speed, battery power and even your trip time and distance.
Lightweight Battery
With a 7lb, easy to remove the battery, the Ui6 makes charging easy. Just pop out the battery and plug in the battery wherever it is most convenient for you.
Colour Options
The Ui6 is available in sleek black and bold white to help match your personal style. Choose black for a matte finish or white for a glossy look.
Magnum Peak – Affordable Power
As the name implies, this Magnum is especially well suited to hilly areas. If your answer to why you should buy an electric bike question is to avoid steep inclines, the MagnumPeak can open up your trail options.
Exceptional Range
With a top range of 97 km, the Peak wins big points for riders who want to be able to enjoy the open road longer. However, the range will vary based on riding style, rider weight and other factors but even the lowest end of the range is 48 km. This factor alone helps the Peak outshine many other bikes.
City and Trail Riding
Unlike many other bikes, the Peak has features that make it a great option for both mountainous trails and urban streets. Its 6 levels of peddle assist ensure you can get the exercise you need while also being able to make it up steep inclines and rockier trails.
24 Gear
With the inclusion of a 24 gear system, the Peak helps to ease the descent down steep inclines. Bikes with lower gears will not provide the same gradual descent as the Peak which is another reason we love this model.
Choose Your Wheels
The Peak comes with both 27.5 and 29-inch wheels. This 1.5-inch difference can change your riding experience. To reach top speeds faster, the 27.5" wheels are better while the 29 inch helps your bike be more efficient on longer trips.
Final Thoughts
The reasons you should buy an e-bike ranges from great exercise to transportation and side hustle options for the pandemic and beyond. The Magnum Payload is especially well equipped to serve as a replacement for another vehicle during the summer.
For those who will be in the city and on the trails, the Magnum Peak offers the best versatility. Choose a Magnum Classic 11 – Low Step for optimal comfort. This bike also has features that will make it easier to use for anyone not accustomed to bike riding or has any physical issues.
Ebikes help you get a workout while maintaining a safe social distance. Explore the options listed here and more on our Ebike page. If you need more answers to burning questions call us via 647-715-9000. We'd be happy to help.
https://epiccycles.ca/wp-content/uploads/2020/06/electric-bikes-for-exercise-.jpg
667
1000
Mahi
https://epiccycles.ca/wp-content/uploads/2018/02/epic-cycles-web-300x138.png
Mahi
2020-06-26 13:34:50
2020-06-26 14:07:50
The Best Electric Bikes for Exercise During a Pandemic